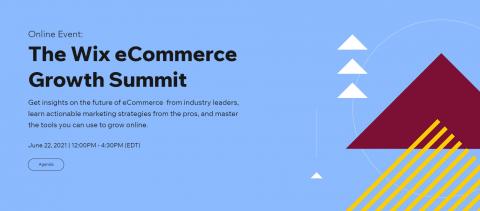 The Wix eCommerce Growth Summit
Get insights on the future of eCommerce  from industry leaders, learn actionable marketing strategies from the pros, and master the tools you can use to grow online.
June 22, 2021 | 12:00PM - 4:30PM (EDT)
Panel: The New Normal of Accelerated eCommerce Growth
12PM - 12:45PM (EDT)
A meeting of the minds on the future of eCommerce, and how you can adapt to the new normal of selling online.
Growing Traffic: Bringing Relevant Shoppers to Your Store
1:00PM - 1:30PM (EDT)
Dania Bernard shows how to build your online brand, attract customers to your site, and encourage audience engagement.
Driving Conversion: From Potential Shoppers into Sales
1:45PM - 2:15PM (EDT)
Rob Goodman and Noah Rosen discuss the most impactful  marketing tools for driving  eCommerce growth.
Optimizing Sales: Understanding Your Shoppers' Behaviour
2:30PM - 3:00PM (EDT)
Liat Karpel Gurwicz explains how shopper behavior impacts critical growth metrics including, conversion, AOV and purchase frequency.